---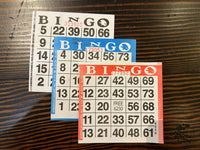 IMPORTANT: Your Cruise Packet will include a 3 game Bingo card pack for use on an upcoming DNR Cruise. Everyone can play. This is an expansion pack for those who want to play more cards per game. 
Each expansion pack includes one card for each of the 3 games to be played in DNR Bingo on an upcoming cruise. This novelty product is for entertainment purposes only. No guarantee of games, wins or prizes. 
Product may ship in cruise packets for Hola Nola DNR Cruise and the May 2022 Joy DNR Cruise or be presented to customer onboard, depending on when order is received.